Brief Life History of Shrimati Sarla Pahwa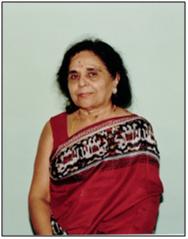 Shrimati Sarla Pahwa1924 – 1996
Date of Wedding: December 9, 1948: Jaipur
Sarla ji was the eldest daughter of Rai Bahadur late Shri Jai Narain Sachdeva and Shrimiti Shanti Sachdeva and was born on 5thMay 1924 at Jaipur.  Shri Jai Narain Sachdeva belonged to a very respectable family and held important posts as District Magistrate and Add. Commissioner in RAS Service.  His grandfather became the member of Jaipur Maharaja's Council of Ministers and was looking after the important portfolio of Finance of the state.  For the services rendered by him has was given a JAGIR and even conferred with the title of 'Tazimi Sardar'.Sarla ji first studied in Inder Prasth school, Delhi till her Matriculation which she passed in 1stdivision.  Later on she joined Bararas Hindu University for her Intermediate but she graduated from Allahabad University in 1944.  She had very good academic career throughout.She was very simple in her habits and thus commanded great love and respect in the family.  She was always soft spoken, polite, gentle,
warm hearted and God fearing.She was of extreme gentle nature.  Her capable innocent behavior, honesty and selfless integrity impressed all those persons who came in contact with her.
---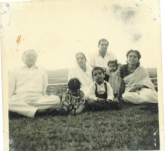 Shri Jai Narain Sachdeva andShrimati Shanti Sachdeva
with Dr. Pahwa and Sarla Pahwa 1952
Dr. J.M.Pahwa and Shrimati Sarla Pahwa : 1960Sarla ji was married to Dr. J. M. Pahwa which was solemnized on December 9, 1948 in Jaipur. She lived after marriage in the large joint family and was very accommodative and tolerant. She lead a very God fearing and virtuous & pious life. She had gentle nature and possessed innocent face with selfless integrity deeply religious with strong principles. She did not like to hurt anybody's feeling and thus was very tolerant and accommodative. There was total absence of pride and arrogance in her.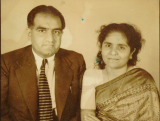 She gave birth to 3 children, 2 sons and 1 daughter.  The eldest is daughter Dr. Jyoti Rao born on August 31, 1951 in Sitapur.  The other sons are Dr. Ashok Pahwa and Dr. Vijay Pahwa born on October 11 1953 and June 11, 1955 respectively.  All three children are well settled, Dr. Ashok Pahwa is in USA and Dr. Vijay Pahwa is in Kolkata.  All three children gave great love, regards, affection & respects to their mother.  She was a loving mother, a faithful and sincere wife and a great friend.  She was always helping her husband with her sagaclous advice and rather stood with him and not behind him for making him a successful person.
---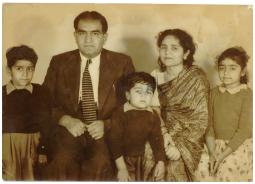 Dr. Pahwa & Mrs. Sarla Pahwa and 3 children1960
Dr. Jyoti Rao (Extreme Right)
Dr. Ashok Pahwa (Extreme Left)
Dr. Vijay Pahwa (Center)
Sarla ji was really greatly committed to her family.  She always liked to help others even at her personal inconvenience.  She had been the President of Inner Wheel Club of Rotary at Sitapur and in Aligarh.  She was invited at many public schools functions but was always very modest.She was religious minded and God fearing.  She was full of love, compassion and karuna.  She always spent sometimes daily for prayer to God.  She always accompanied her husband for the annual Beas Eye Camps where she devoted her time for the Sewa to Eye patients.  She was initiated in Radha Soami Mat along with her husband on June 1, 1994 by the present Master Baba ji Gurvinder Singh Dhillon ji.She became suddenly ill on June 3, 1996 and breathed her last on June 8, 1996 after a very brief illness.  Her last rites were performed by his eldest son Dr. Ashok who could fly from USA in time for this on June 10, 1996.  It has created a great void for all of us.  We all remember and miss her very much.  May God give peace to her soul.